Experiences
Find an experience through a growing list of operators based around the UK.
To get started, select your location!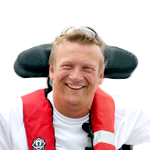 Day Fishing Experience

Wetwheels Hamble

Summer Evening Fishing

Wetwheels Hamble

Lymington Full Experience

Wetwheels Hamble

We are offering a Full Experience of fun on the water out of Berthon Lymington Marina for groups of up to 10 people including 3 wheelchair users. Leave disabilities behind on the shore and let the sea's blue health benefits improve your mental well being and stimulate your senses. .

Three Bridges Blast

Wetwheels Edinburgh

Join us for a 1-hour experience around the Firth of Forth, leaving and returning from our base in South Queensferry. You will see the magnificent UNESCO registered Forth Rail Bridge, the two Forth road bridges, and all the wildlife and scenery that the Forth has to offer. We are able to carry up to three electric of manual wheelchairs on each trips, so please contact us for questions and to book!...

South East Accessible Scattering of Ashes

Wetwheels South East

At Wetwheels South East we are aware than many people choose to have their ashes scattered at a favourite place, which for many means the sea. If you have family members with mobility issues or are wheelchair users, being able to access the English Channel and the iconic White Cliffs to say goodbye, we are able to assist.

Ocean Village Southampton River Breezes

Wetwheels Hamble

2024 Bookings Opening Soon.

Wetwheels Yorkshire

Wetwheels Yorkshire has now finished running trips for 2023.  Thank you to everyone that joined us for a wonderful experience this year. Our online booking system for 2024 will be opening in the New Year.  We will announce dates on our e-newsletter first so, to be kept informed, please email bookings@wetwheelsyorkshire.com to be added to our newsletter.  .

Jersey Dolphin spotting

Wetwheels Jersey

This trip takes a very similar route to the South Coast Cruise, however, we keep in touch with the local boating community and will head to wherever dolphins have been last spotted.